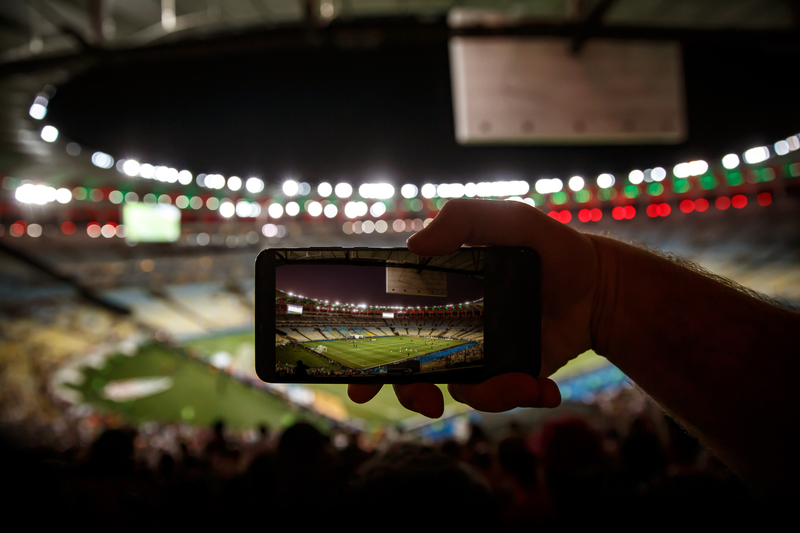 Augmented Reality Hits the Field with AR-Enhanced Sporting Events
Sports are decidedly physical pursuits. Athletes train year-round to perform at their best during the season. Do such physically-focused activities have anything to learn from technology? Sports teams in leagues around the world say, yes. In an increasingly digital age, sports teams and brands are turning to augmented reality to help them connect with fans in the stadium and online. It's time for AR to hit the field with engaging augmented reality-enhanced sporting events and experiences.
Carolina Panthers Reveal "Mixed Reality" Mascot
Carolina Panthers fans were delighted with an augmented reality surprise at the team's home opener game in September. A "mixed reality" panther mascot appeared before kickoff and pounced around the crowded stadium, scaling walls and standing proudly atop the scoreboard. Social media went wild for the team's "PantherVision" pre-game moment, with many deeming it the coolest moment of the 2021 National Football League (NFL) season so far.
Marketing decision-makers for the Panthers made the right choice tapping into the power of augmented reality to connect with people in person and at home on a smartphone. We can only wait to see what this giant AR panther has in store for this NFL season.
Augmented Reality Goes Major League
Reveling in the mirth and excitement of a baseball game surrounded by fellow fanatics is one of the great American pastimes. Now, Major League Baseball (MLB) is expanding an existent relationship with Snapchat to add an AR layer to the fun of baseball. The league's Ballpark app for smartphones has been upgraded with augmented reality filters to enhance the fan experience like never before.
AR filters in the MLB Ballpark app let fans take decorated selfies showing all their team spirit. To boost engagement with spectators who are watching from home more than ever, fans can use the app's augmented reality capabilities to take AR selfies placing them in the stadium no matter where they are watching from. It's only a matter of time until augmented reality evolves to the point where fans can catch an AR foul ball.
Play in the NBA with AR
The National Basketball Association (NBA) has long relied on technology to enhance the fan experience. But now, a new AR-enhanced board game will make fans feel like the newest player in the league. Flex NBA uses tokens of NBA players to compete in turns, similarly to Pokémon. When players use their smartphones, they can watch the players on their tokens come to life and compete with ball skills and tricks.
Score with Augmented Reality for Business
Professional sports leagues are one of many industries that are tapping into the power of augmented reality for business. In the same way that AR can connect fans with their favorite sports teams, AR marketing can show your products and services to leads and clients in a magical new way. With just a smartphone, you can offer live full-scale previews of your products projected into your clients' own homes and backyards. Contact us today to see how AR can change the way you do business.