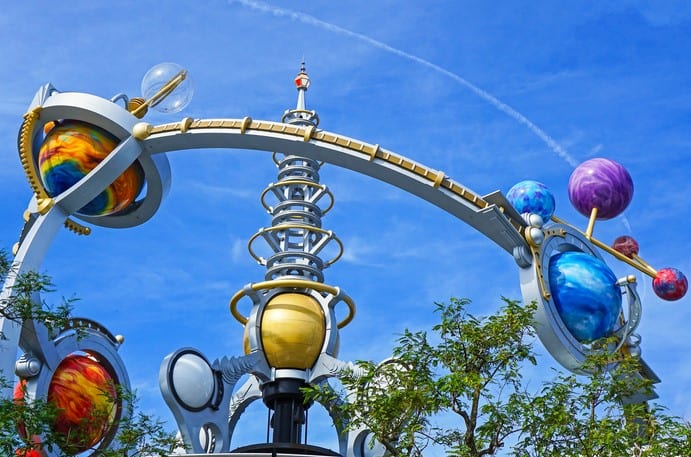 The Next Big Theme Park Attraction Is Augmented Reality
Theme parks and carnivals are identified by their larger than life rides and structures. Expansive construction projects and whimsical installations beckon you into a different world. But the shiny new ride coming to theme parks now isn't a physical structure at all. From Orlando to London, augmented reality is setting up residence as the latest greatest theme park thrill.
Snap an AR Selfie with Your Favorite Disney Character
The Walt Disney World® Resort in Orlando is filled with gargantuan fairytale experiences straight out of the movies of your childhood. This year, Disney is teaming up with Snapchat to add augmented reality to its ever-expanding park map. Thanks to the new partnership, park guests will be able to take selfies with some of their most beloved characters without waiting in line or rushing to make their FastPass window.
Disney's new AR Snapchat filter will make Mickey Mouse or even Minnie appear over your shoulder for a theme park pals portrait. What's more, you can don your own set of AR Mickey Ears to match your selfie partner. The augmented reality filter will only be available for access for guests physically inside of the resort. However, in celebration of the new attraction's launch, children at heart everywhere can try out the Snapchat filter until June.
Another AR feature coming to the park will transform Cinderella's Castle before your eyes. As a part of Walt Disney World Resort's 50th anniversary, park guests will be able to use their smartphones to view their own Disney memories glimmering around the iconic castle. Family photos taken all over the park will become augmented reality wallpaper on the resort's towering centerpiece.
Ride AR Go-Karts in London
In London, small time drivers will be able to enter big time races thanks to augmented reality. At a new AR go-kart track coming to the UK in August, the thrill and haste of go-kart racing will collide head on with the fantasy and sabotage of racing video games. When you go to Chaos Karts, you'll race karts on a physical race track like you've seen before. But unlike anything you've seen before, the track will come alive with augmented reality.
AR obstacles will come into your path and will throw you off if you hit them. You'll also be able to sabotage your fellow racers with AR weapons and tricks. Push for first place in this enchanting video game/theme park ride hybrid. Additionally, safety precautions will be built into the system to keep you from careening off an AR cliff, so don't worry if you're a particularly reckless go-karter.
Give Your Clients the Thrill of Augmented Reality
Augmented reality is changing the way we design consumer experiences. The same augmented reality you can use to throw an AR banana in front of your friend's real life go-kart, can also temporarily install a home improvement project in the home of a prospective client for them to see. The Realizers can connect your leads with your services in immersive and convincing ways. Contact us today to find out how AR can make the difference for your business.