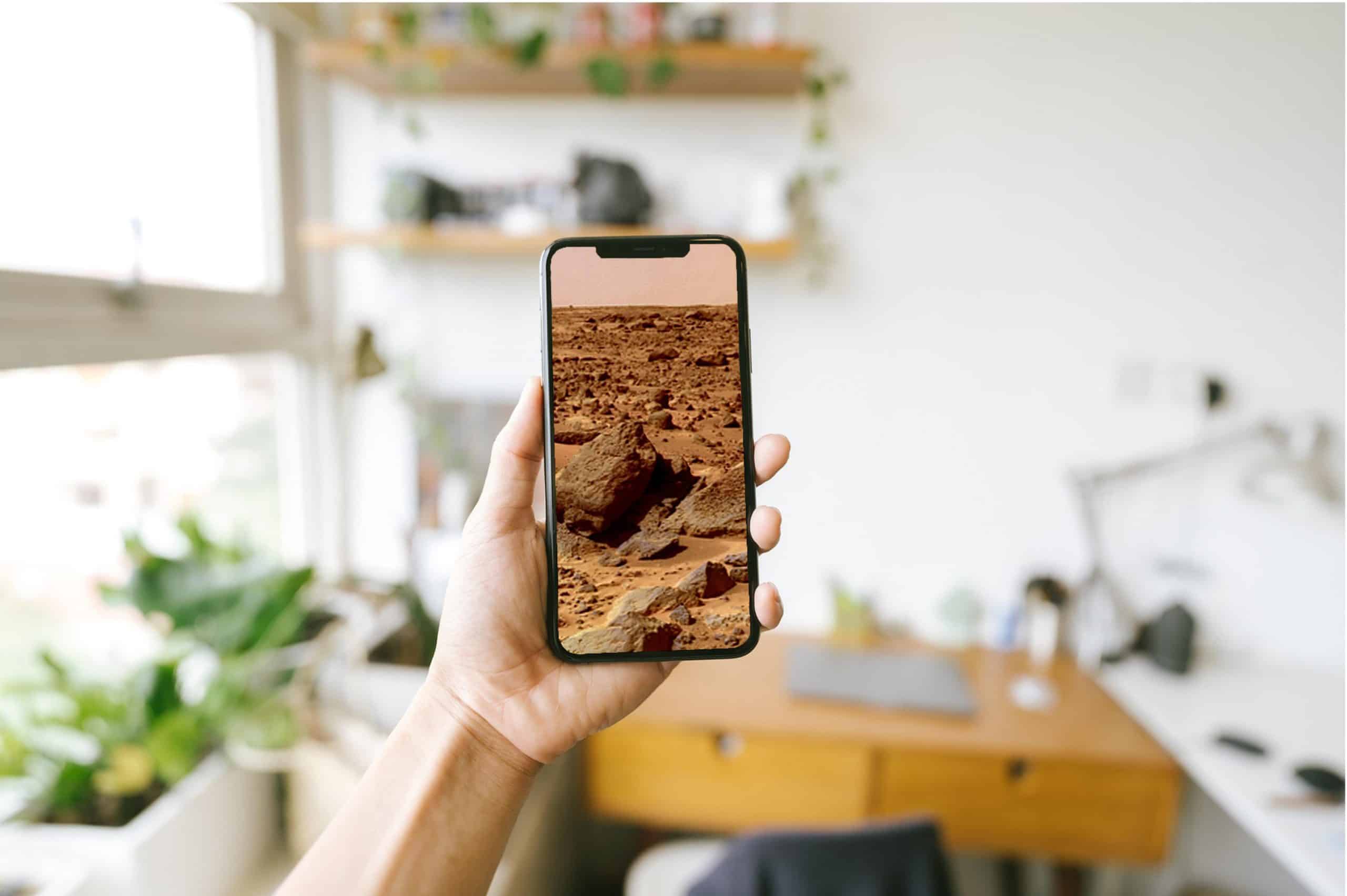 Land on Mars in Your Living Room with AR
Aspiring space cowboys and cowgirls all over the world watched in wonder as NASA's Perseverance rover finished its long journey through the cosmos and landed on Mars this February. If you've always dreamed of taking a giant leap of your own onto alien soil, a new augmented reality app called Mission to Mars AR lets you land on Mars in your living room! The same augmented reality technology that can help your customers experience a product in their immediate environment will bring an invasion of rockets, rovers, and rocky martian fields right into your home or backyard. Check out the Mission to Mars AR app, free for all space cadets to download on your iOS or Android device, and prepare for takeoff!
Cleared for Landing from the Couch
Let Cape Canaveral watch in awe while you launch a rocket from your coffee table. The launch room counts you down before a flash of fire and a plume of smoke hide your remote (good luck finding that later) and send your rocket soaring into the sky. Watch out for the chimney!
Live your mission control fantasy as the app manifests Mars' rugged surface on your dining room table and the rover appears in the sky, careening towards the ground (and your morning coffee). Help the rover survive what astronauts call the "7 Minutes of Terror" by deploying the parachute at the right time and guiding the rover safely to the ground. If you aren't very good at deploying space parachutes like some of us have learned through this experience, you will have to watch the rover burst into flames and disintegrate into the atmosphere, along with your space pirate dreams. But don't worry, the magic of AR means you get to try again! Houston, no problems here!
When your kids are feeling restless and even the backyard isn't a grand enough landscape to explore, open the Mission to Mars AR app and create a "Portal to Mars" right through your fence! The app lets you walk through the portal and right onto the dusty ancient terrain of the red planet.
Let AR Bring You the Stars
Ray Soto, one of the minds associated with the project and emerging technology director for USA Today, explained how the app uses augmented reality to connect the Mars mission technology with aspiring astronauts all over the world: "Being able to see the rover to scale, walk around and interact with it, users can feel as if this is actually in their living room or whatever space they're in… And I think that's the thing that's going to be very exciting for our users who might have a general interest in space exploration. But something like this, I think, it really can help drive that fascination and guide users to want to learn more."

You don't need a rocket scientist to tell you that AR tools can be used to give your customers firsthand experience with your products and services no matter where they are in the galaxy! If augmented reality technology can transport the surface of Mars 293 million miles across the Milky Way all the way into your backyard, just imagine the ways AR could bring your products into the homes of your customers in engaging new ways! Check out some of the Augmented Reality solutions The Realizers can add to your advertising to launch your customer experience to Mars and beyond!