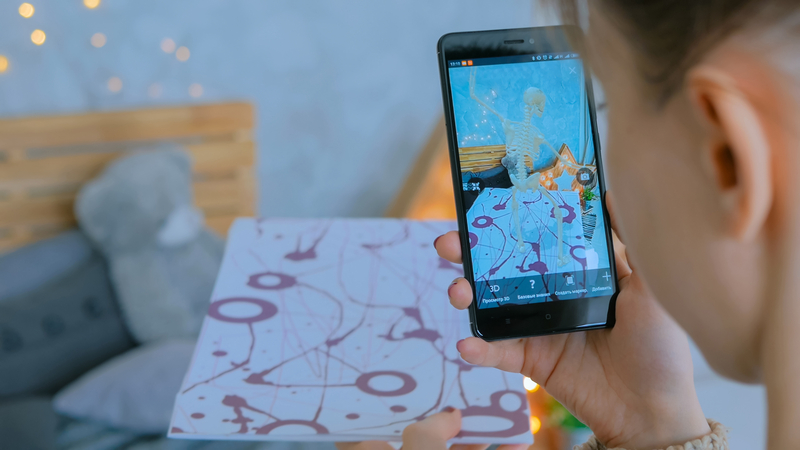 Spooky AR Apps for a Frightfully Fun Halloween Party
It's that spooky time of year again! Halloween is for funny costumes, scary movies, and too much candy. This year, take Halloween into another reality with some augmented reality magic. Bring your Halloween to life—or back from the dead—with these spooky AR apps for a frightfully fun Halloween Party.
Invitations from the Other Side
First, set your Halloween party guests' expectations to ghoulish delight with some haunted AR party invitations. An augmented reality greeting card and invitation app can take a normal party invitation and make it come to life in front of your guests' eyes. You'll be receiving all your RSVPs early because your friends will know your high tech Halloween isn't one to miss.
Your invitations can be physical card invites or virtual invites. The same augmented reality technology that can bring a concert to your backyard brings excitement and intrigue to your party invitations. You can even use this as an early opportunity to give your friends a little Halloween scare with some spooky AR visuals.
AR Zombie Wine Labels to Quench Your Bloodthirst
Second, you'll want to offer your Halloween party guests an otherworldly libation to kick your party off. Special spooky wines from The Walking Dead feature augmented reality labels that use smartphones to give you a zombie fright. With flavors like "Blood Red Blend" and a hungry zombie reaching for you from the bottle, your guests will scream for another glass.
Protect Your Halloween Party from AR Zombies
Once you've let the zombies into the party on your wine labels, you might be surprised when they try to take over. The Walking Dead: Our World is an augmented reality game for your smartphone that works similarly to Pokémon GO. Turn your Halloween party dance floor into a zombie bloodbath and fight the coming zombie apocalypse together. You may not all survive, but it will certainly be a Halloween party to remember.
Investigate Real Crime Scenes with this Spooky AR App
When you and your friends are done fighting zombies, your carefully decorated Halloween party may look like a crime scene. With a new AR app, you can investigate real life crime scenes as they actually existed. The CrimeDoor app employs augmented reality to recreate real crime scenes and project them onto your space wherever you are.
With the CrimeDoor app, you can discover real crimes and crime scenes that happened in your area, or search through crimes that occurred all over the world. You may have some amateur sleuths at your party just waiting to solve a murder.
Augmented Reality Is Revolutionizing Parties and Everyday Life
However you choose to celebrate Halloween this year, make sure you make it fun and at least a little spooky. As augmented reality technology continues to advance, there's no telling what will be possible for future parties and everyday life. The Realizers use AR solutions to help businesses engage with their customers and leads like never before. Contact us to see how augmented reality can revolutionize your marketing.