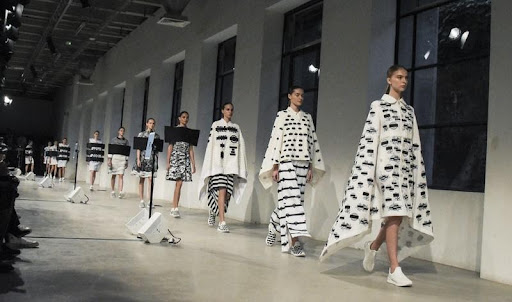 Augmented Reality Moments in Fashion History
Technology has long played an innovative role in fashion history. Whether as a source of function or ornamentation, designers and retailers have used technology like augmented reality to craft and present their designs to the masses. Take a high-tech trip back through some impactful augmented reality moments in fashion history.
New York Fashion Week Runway Models Sport AR Google Glasses
Google's augmented reality Google Glasses made a stir in the tech community when they were announced with fanfare. However, it took the keen eye of superstar designer Diane von Furstenberg to make the wearable tech truly fashion. The designer's 2012 fashion show for New York Fashion Week featured models bespeckled in white, turquoise, and orange Google Glasses as they sauntered the runway for fashion insiders.
Co-founder of Google Sergey Brin joined Diane von Furstenberg on the runway to close out the show, both wearing AR spectacles of their own. Brin noted, "Beauty, style and comfort are as important to Glass as the latest technology. We are delighted to bring Glass to the runway together with DVF." The augmented reality glasses made the rounds with celebrity attendees of the show, with style darling Sarah Jessica Parker donning a pair herself. What AR images were playing on the many Google Glasses floating around the runway that day? With the versatility of augmented reality tech, it could have been anything.
Samsung Dresses K-Pop Star BIBI in Augmented Reality Fashions
Augmented reality photo and video filters have been popular on social media platforms like Snapchat and Instagram for years. Iconic fashion houses like Gucci have even released AR accessories for preview or purchase to fashion-savvy selfie takers. Now, Samsung has released a collection of augmented reality ready-to-wear outfits for high-tech fashionistas around the web.
The tech brand debuted their AR fashion line in collaboration with K-Pop star and singer-songwriter BIBI in a new music video from the artist. The music video shows BIBI modeling the eye-catching AR looks as she sings in the streets of Seoul, South Korea. The collection features digital fashions from augmented reality fashion designers Adiella Bachshe, Aliina Kauranne, Gwen Kim, Ines Alpha, Linxi Zhu, and Taskin Göc. Samsung smartphone users can try the AR fashions for themselves on their videos and photos using Samsung's "Fun Mode".
Fashion Retailers Employ Augmented Reality to Let Shoppers Try Before they Buy
From the runway to the rack, AR is enhancing the world of fashion and retail. Retail giants like Adidas, Etsy, and Gap have curated augmented reality fitting rooms that let shoppers try on clothes from the comfort of their homes. Brides-to-be can even try on AR wedding dresses from home to find the perfect gown for their special day. The removal of this common online sales barrier has been shown through research to improve sales conversions.
The Realizers has the augmented reality solutions necessary to market your company in the digital age. Your customers can preview your products in their world with your own AR app. Contact us today to revolutionize your customer experience with AR marketing from The Realizers.