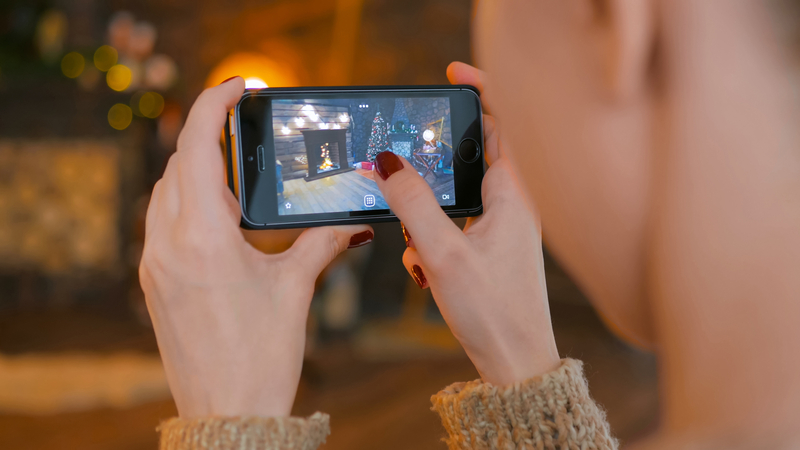 Have a Holly Jolly AR Holiday
It truly is the most wonderful time of the year. The sights and sounds of the season fill our senses with delight as we make merry with friends and family. But, there is no winter break for augmented reality. Celebrate this special season with some AR holiday magic.
Augmented Reality Christmas Cards
There's no better time to be a pen pal than around the holidays. This year, send your loved ones a holiday card they will never forget. An augmented reality Christmas card can bring the magic of the season to life and warm the hearts of your recipient in a way plain paper can only dream of.
A family picture in front of the tree can light up with sparkling AR Christmas lights. A childhood memory of playing in the snow can become a frosty augmented reality card with snow falling softly on your pen pal. An AR holiday card won't just get hung around the door frame, it will be treasured forever.
Take an AR Selfie with Santa
You'll have the most talked about holiday cookie exchange on the block when you have Santa stop by for a selfie with all your guests. An augmented reality photo booth company uses an AR-powered mirror to let Santa himself pop up in your holiday party pictures.
There's no need to wait in line at the mall when Santa can pay a special visit in the mirror. You can even print your Santa selfie to mail to the grandparents. Just smile and say "Ho! Ho! Ho!"
If you're in more of a dancing mood, you can skip the party mirror and use an AR app for smartphones to take photos with Santa and even do a dance duet together. Santa Claus may not be known for his dance moves, but you'll be surprised how loose he can get with some help from augmented reality.
The Secret History of the Rockefeller Center Christmas Tree Revealed with AR
Arguably the most famous holiday tree in the world, the Rockefeller Center Christmas Tree in New York City is an icon of the holiday season and the focus of warm December memories to kids young and old. Now, an AR app can take you on a journey into the famous tree's secret history. Visitors to Rockefeller Center can use the smartphone app to view historical images and rare facts about the giant tree laid over the actual location of the tree in Manhattan.
When Christmas Eve comes and not a creature is stirring, augmented reality will still be hard at work enhancing the holidays and making connections. The same AR tech that can cause Santa Claus himself to make an appearance at your holiday party to boogie and dance in your living room can also bring your products and home improvement services into the homes and backyards of your customers and leads. The Realizers has augmented reality solutions for all your contractor marketing needs. Contact us to get started today.