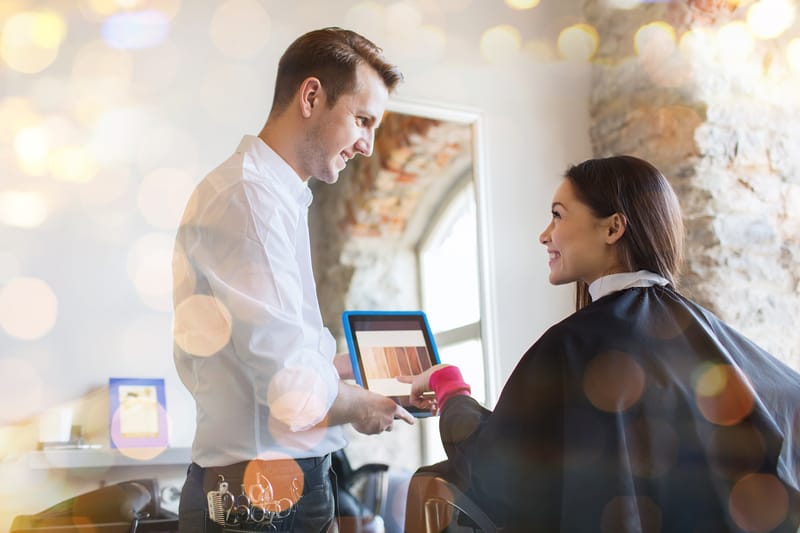 Amazon's Augmented Reality Salon Is Here to Save Your Scalp
It has not been a good year for hair. Humans across the planet have struggled to maintain their lengthening locks while quarantining during the pandemic. Some of us were able to flourish through the circumstances with dignity and style. Others of us may have fumbled, albeit bravely. Now, in-person health and beauty services like hair salons slowly reopen around the world. The bedraggled masses excitedly stalk their barbers' Instagrams for signs of a reopened chair like keeping tabs on an ex. And in a futuristic market twist, Amazon stands ready to greet the moment with a new augmented reality-powered hair salon for the twenty-first century.
Amazon has announced its bid for your first post-pandemic haircut. In a breakthrough in beauty technology, Amazon plans to open a hair salon that uses AR technology to bridge the gap between ombre expectation and reality.
Amazon's AR Removes the Mystery from Your Styling Decisions
Have you ever struggled to explain your desired hairdo to the barber before crossing your fingers and going under the shears? Did you hurry back to your car, check the mirror, and think, "Well that's not what I was expecting." Augmented reality technology is here to remove the mystery between you and your barber. In Amazon's new AR salon, your stylist can show you exactly how your new hairstyle will sit around your actual face. Your barber need only slide you in front of the augmented reality mirror and flip through hairdos right on top of your head!
Think you're ready for mutton chops? Slow down there, Wolverine. Let's see what the magic AR mirror has to say about that first. No more impulsive hair decisions followed by immediate regret upon completion. Take an augmented reality look at how that breakup-inspired pixie cut will actually look on you before you're crying in your stylist's arms like a despairing Tinkerbell. 
The Augmented Reality Retail Revolution Continues
Augmented reality technology is revolutionizing the way many industries interact with potential clients. With AR, prospective pool owners can see how a new pool will fit in their backyard without excavating their lawn. Harried brides can relax at home in pajamas while trying on augmented reality wedding gowns without a salesperson over their shoulder holding a flute of stale champagne. Home improvement shoppers can compare cabinet finishes in their kitchen with AR marketing tools for contractors. And hopefully, now, your barber can prove to you that this is not the summer to go Billie Eilish Green with some very convincing AR proof. 
Amazon's AR salon is set to open its first location in London. Owner of cosmetic hotspot Neville Hair & Beauty Salon and celebrated London stylist Elena Lavagni will lead the stylist team of this beauty tech experiment. Elena shared her excitement for the vanguard venture: "I am delighted to be part of this project – the salon combines classic hairdressing services with technology to deliver a completely unique experience for clients… Our creative team of stylists, whose flair for hair is as intrinsic as their love for technology, will put the client at the heart of everything they do. I feel proud to use our 40 years' experience in the industry to help bring this salon to life."
Amazon's AR salon will open to haircut hankering Amazon employees first. While there are currently no plans to open subsequent salon locations elsewhere, part those drooping bangs and keep an eye out. Augmented reality technology could be solving your styling dilemmas at a salon near you in no time.