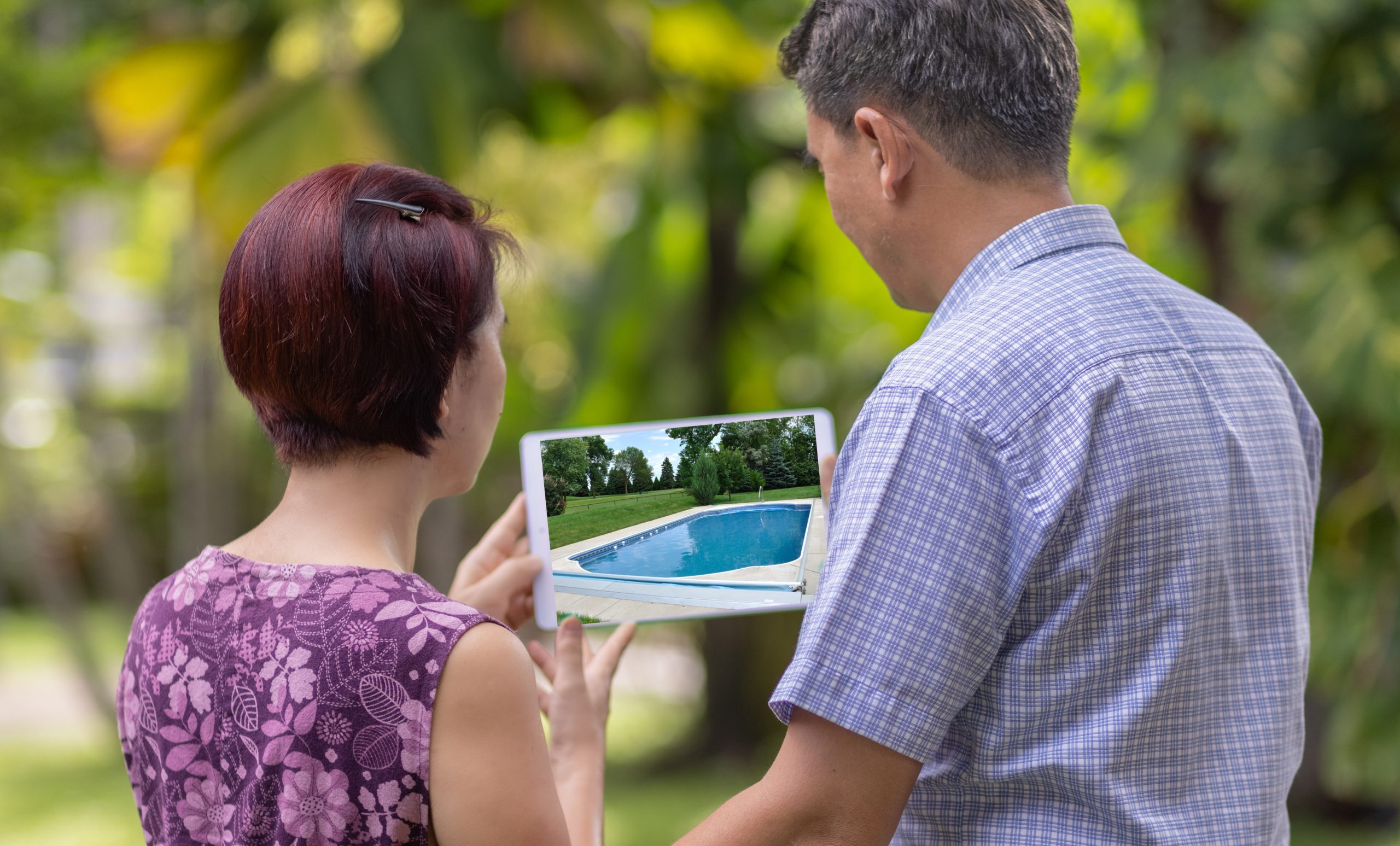 4 Ways Augmented Reality is Changing the Game for Pool Manufacturers
In the words of Bob Dylan, "The times, they are a-changin'." Innovative pool manufacturers are jumping on the augmented reality (AR) bandwagon in order to gain new customers and rise above their competition. Far from being a passing trend, AR will eventually be as ubiquitous as the internet and smartphones. Here are four ways augmented reality is changing the game for pool manufacturers.
1. Augmented Reality Gives Homeowners Visualization
In the future, we'll wonder why anyone would purchase a pool without "trying it on" first via augmented reality. When you create a custom AR app for your pool manufacturing business, customers will be able to hold up their phone or tablet camera and see your pool in their backyard. They'll be able to determine the best yard location, the ideal shape, and their favorite pool color.
Pool Manufacturers of All Pool Types Can Benefit From an Augmented Reality App
Whether you specialize in inground pools, above ground pools, pool liners, fiberglass inserts, or gunite pools, and even spas, every customer would love to visualize their future investment in their own backyard before signing the dotted line.
2. Pool Pump Manufacturers Can Take Advantage of AR
You might not associate pool pumps with augmented reality technology, but there are a surprising number of ways pool pump manufacturers could benefit from it. AR can provide better customer assistance, faster workforce training, and increased dealer acquisition.
3. AR Provides New Marketing Opportunities for Pool Manufacturers
After creating a custom AR app, it's time to let the world know about it. Promoting this fantastic technology makes for easy lead generation. When potential customers try out your app "just for fun," it will show them a pool paradise they didn't even know was possible. Before you know it, they'll go from just testing out your AR app to asking how soon they can get their dream pool.
The first pool company to harness AR in your area will automatically be a step ahead of the competition. After all, consumers want to be a part of this tech revolution as much as you do!
4. 3D Modeling Gives Your Products New Life
Do you want to expand to different kinds of pools, but you don't have any pictures of your own construction projects to show your expertise? With 3D modeling and virtual photography, you can create beautiful, realistic images of pools or spas without having to install them first.
Even if you have already-built pools to show off, do you have the time or budget to hire a professional photographer for every project? Are the backgrounds at customers' houses advertisement-worthy? Put those worries aside by using The Realizers to create virtual photographs of your pools. These images could be used for your custom AR app, in advertisements, or to make your website look top-notch.
Make Your Pool Manufacturer Business's Technology Dreams Come True
Don't let your pool company be associated with outdated technology. The Realizers can help you implement smart augmented reality solutions and market the finished product. Our expert 3D modelers and virtual photographers will make your products look stunning. Take a look at our packages and then contact us to get your project started. "The times, they are a-changin'," and The Realizers will make you part of that change.